Personalized hot rod garage lettering sticker 10998
Elevate the charm and distinction of your cherished vehicle with our customized Hot Rod Garage Lettering Sticker 10998. Crafted from premium materials, this sticker is not only waterproof but also built to endure challenging weather conditions such as rain and direct sunlight.
The personalized Hot Rod Garage Lettering Sticker 10998 provides an excellent opportunity to showcase your unique personality and make your car truly remarkable. With a wide variety of styles and colors available, you can effortlessly find the perfect match that complements your personal taste. Moreover, these stickers are designed for easy application and removal, granting you the freedom to switch them up whenever desired.
What sets our service apart is the ability to tailor the design to your preferences. Whether it's modifying the name, date, or any other details, simply share your ideas, and our skilled design team will assist you in bringing your vision to life.
Don't wait any longer! Place your order for the personalized Hot Rod Garage Lettering Sticker 10998 now and make your vehicle a true reflection of your style and individuality.
There are many more car lettering-style products at Rustypod.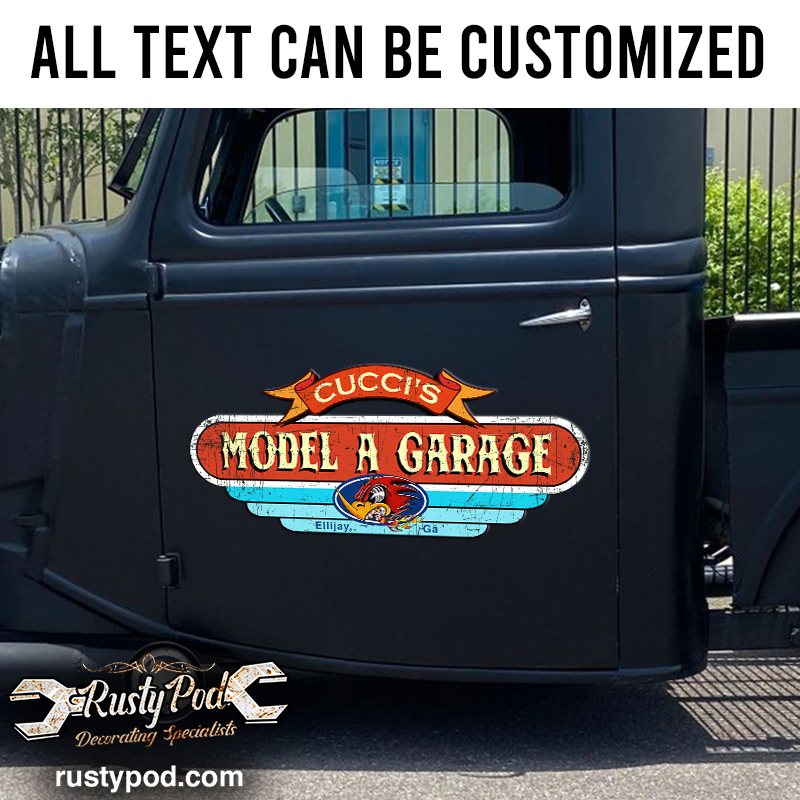 Product Information
Our personalized Hot Rod Garage Lettering Sticker are top-quality decals, originally produced in Western countries, and have had their spot on the market with plenty of facilities all around the world. The decals use rapid air tech to avoid any air bubbles on the surface, and many more features are specially designed for cars and motorbikes. Our digital printing technology can create the most colorful stickers while being safe for the environment. We ensure you they won't fade easily after a couple of years.

We have multiple products with the same design